The Canadian Battlefields Foundation undertakes programs to commemorate and promote public awareness of Canada's role in the two World Wars and other wars of the 20th century.
The Foundation was established in 1992 to educate and actively promote public awareness of Canada's role in the Second World War. Spend some time with us to learn more about our objectives of increasing public awareness of Canada's contributions to peace and freedom in the wars of the twentieth century. Visit our recommended links and feel free to contact us with your comments or suggestions.
---
Twitter Activity

Le voyage d'étude des étudiants de cette année accepte maintenant les candidatures! Rejoignez-nous pour un voyage fascinant sur les champs de bataille de la Première Guerre mondiale en France et en Belgique, suivi d'une visite aux Pays-Bas #cbf2020 https://t.co/lh9zY9c8pZ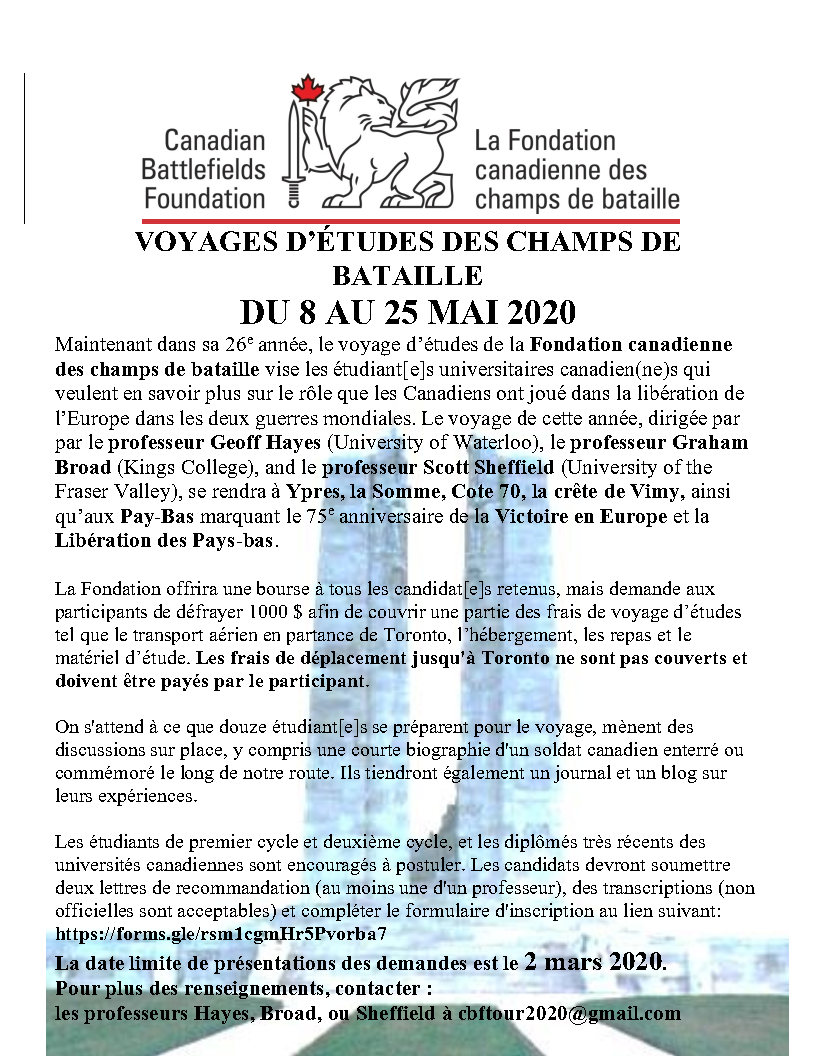 Facebook Activity
Canadian Battlefields Foundation is at Australian War Memorial.
News/Student Activity
CBF 2020 Battlefield tour poster and application is available
2 months ago
Now in its 26th year, the Canadian Battlefields Foundation Study Tour is intended for Canadian university students who want to learn more about the role Canadians played in the liberation of Europe in the World Wars. This year's tour, led by Professor Geoff Hayes (University of Waterloo), Professor Graham Broad (Kings
Read more...